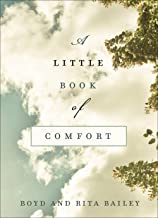 A Little Book of Comfort: Healing Reflections for Those Who Hurt by Boyd and Rita Bailey
Regular price $20.95 Sale
Life is filled with choices, uncertainties, and hardships. But there is good news! Jesus faced many of the same kinds of trials you do, and He will daily walk by your side to offer guidance, answers, and hope.
 
Spend a few minutes each day talking with your Savior, learning from His words, and finding inspiration from His life example. Each of these 90 short devotions will connect you with the heart of Jesus and includes a brief prayer or a question for personal reflection. 
 
Grow closer to Jesus and lean on His teaching for help in the midst of everyday concerns related to work, worries, finances, and more. Invest some time each day in a relationship with your Savior, and find your heart refreshed with wisdom―and comfort―for each moment.