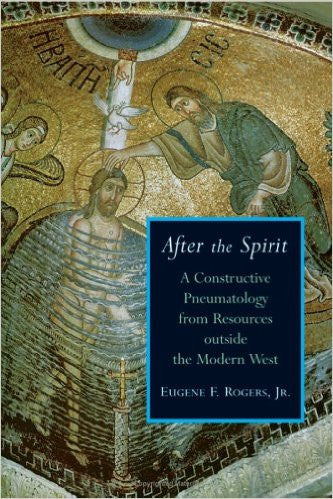 After The Spirit by Eugene F. Rogers Jr.
Regular price $37.95 Sale
Paperback - 251 pages
 A Constructive Pneumatology from Resources Outside the Modern West (Radical Traditions)
To think about the Spirit it will not do to think 'spiritually': to think about the Spirit you have to think materially, claims Eugene F. Rogers. The Holy Spirit, who in classical Christian discourse "pours out on all flesh" has tended in modern theology and worship to float free of bodies. The result of such disembodiment, contends Rogers, is that our talk about the Spirit has become flat and uninspiring. In After the Spirit Rogers diagnoses a related gap in the revival of trinitarian theology, a mentality that "there's nothing the Spirit can do that the Son can't do better." The Eastern Christian tradition, by contrast, has usually linked the Holy Spirit with holy places, holy people, and holy things. Weaving together a rich tapestry of sources from this tradition, Rogers locates the Spirit in the Gospel stories of the annunciation, Jesus' baptism, the transfiguration, and the resurrection. These stories offer illuminating glimpses into both the Spirit's connection with the tangible world and the Spirit's distinctive place in relation to the other persons of the Trinity. Eight gorgeous color plates complement Roger's witty and passionate prose.