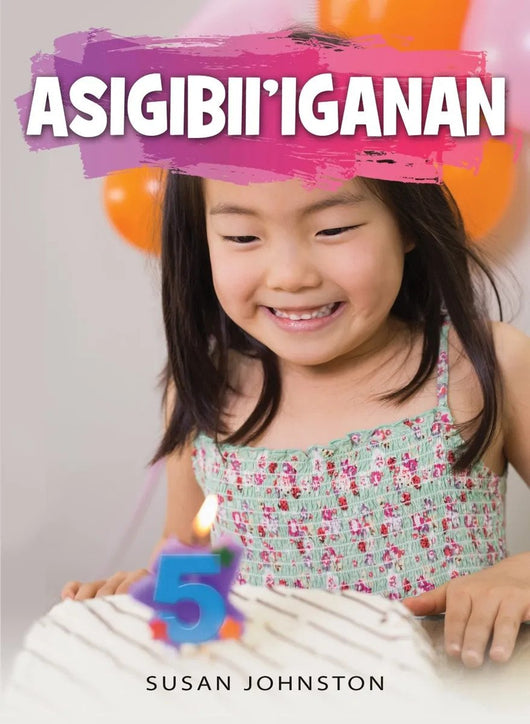 Asigibii'iganan by Susan Johnston
Regular price $10.95 Sale
 Asigibii'iganan introduces children age 3-5 to numbers one to ten in Ojibwa and English. Vivid photos depict real objects for easy identification.Asigibii'iganan is a valuable instructional tool for Ojibwa language teachers and parents who would like to help their children learn the Ojibwa language.
                    SUSAN JOHNSTON lives in Thunder Bay, Ontario with her husband, Steve. They have two grown children and four grandchildren. 
Susan Johnston had both a traditional and formal education, having been taught by her grandfather, grandmother and mother before going to study at Lakehead University and receiving two degrees, Honours Bachelor of Arts, Indigenous Learning and Women Studies. Her thesis titled "Native Stories and Storytelling, A Time for Telling" is about the importance of storytelling and includes a children's story. This has inspired Susan to write other Native dual language (Ojibwa) children's books: Nuka and the Three Islands and for the Aboriginal Cancer Society: Tobacco Tales. She has also written Animal Picnic, How Bird Turned Red, Crow plays Tag with Squirrel, The Elders are Talking. Teacher Resources are being published. Susan has also written legends for several magazines.
Susan has also illustrated all of her dual language Native storybooks. She has worked with Jiiwitagan-Ni-Queck Native Women's Alliance since 1992, and she has taught traditional teachings, storytelling and crafts in local schools for grades 1 to 12. Proprietor of Weshkaday Traditional Educational Centre, Susan provides cultural workshops regarding Ojibwa teachings, so others may learn the interlocking elements of how the land, language and culture link holistically.
Susan has two other books published by Goldrock Press: Nimaajaa Agwajiing and Biboon.