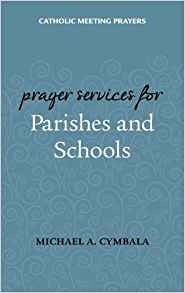 Catholic Meeting Prayers: Prayer Services for Parishes and Schools by Michael A. Cymbala
Regular price $11.95 $5.95 Sale
Note: This is a clearance product and may have some minor imperfections. For information on a particular product, please call us or come to the store in person.
Paperback: 106 pages
This practical resource provides 47 prayer services for use at Catholic parish and school meetings. In this book, leaders of meetings throughout the liturgical and school year will find prayers for the seasons and a variety of gatherings and circumstances. The prayer services follows a basic structure with a reading from scripture, intercessory prayer, a concluding prayer, and the Lord's Prayer. Since little or no preparation is needed for these prayer services, this book will ease the minds of organizational leaders who need to lead prayer at a variety of occasions. Prayers are found here for the beginning and end of the school year, before a sports event, before meetings with liturgical ministers, for members who are sick or have died, in times of economic hardship and times of joy, when electing new members and during times of discernment. This book will make it easy for any staff member, volunteer or committee to lead prayer.