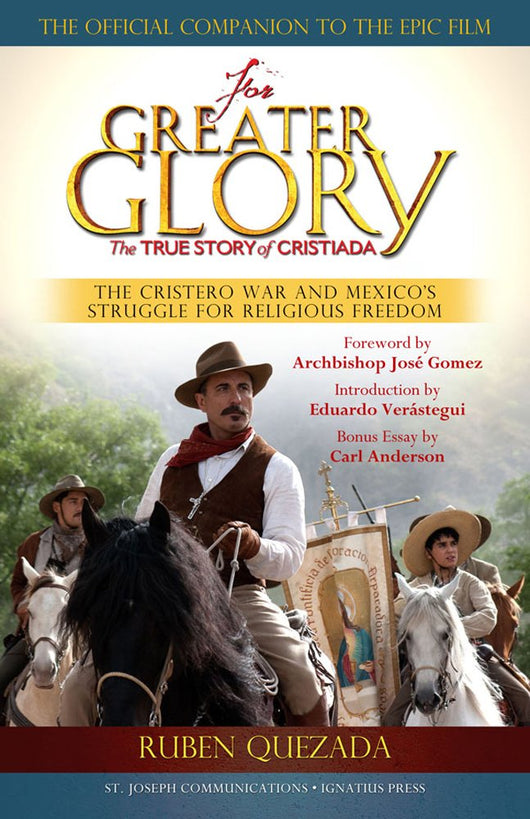 For Greater Glory: The True Story of Cristiada the Cristero War and Mexicos Struggle for Religious Freedom by Ruben Quezada
Regular price $0.00 $12.95 Sale
Note: This is a clearance product and may have some minor imperfections. For information on a particular product, please call us or come to the store in person.
Paperback:
Foreword by Archbishop Jose Gomez
Introduction by Eduardo Verastegui
Many people of faith today are asking, "What is the price of religious liberty?" In the 1920's many Catholics in Mexico answered this crucial question at the cost of their very lives. The new major motion picture, For Greater Glory: The True Story of Cristiada tells the epic tale of Mexico's heroic struggle for religious freedom in a little-known conflict called the Cristero War - but many questions still remain. Now you'll go much deeper into the exciting history behind the movie with this fact-filled companion book and gain important insight into the on-going fight for religious freedom today. This is the Official Companion Book to the epic film. Lavishly illustrated with photos from the film and with historical photos.
As you read you'll discover:
Who were the Cristeros?
What drove the Mexican government to ruthlessly persecute Catholics?
Can a priest "wage war"
What role did groups like the Knights of Columbus play in this armed resistance?
Why did thousands of Catholics - priests, religious, lay people - willingly give their lives in the Cristiada?
What role did the U.S. play in ending this bitter conflict?
What did the Pope do to support the Church in Mexico?
Which characters in the movie went on to become Catholic saints and blesseds in real life?
Why is this dramatic episode of history so little known today?
What is the lesson of the Cristiada for those struggling for religious freedom today?
"For Greater Glory is 'must-see' viewing for all those who care about faith and liberty today."
-Carl Anderson, Supreme Knight, Knights of Columbus