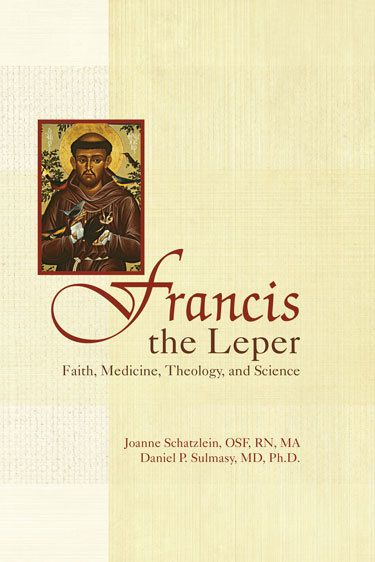 Francis the Leper Faith Medicine Theology and Science Sr. Joanne Schatzlein O.S.F. and Daniel P. Sulmasy MD
Regular price $18.95 Sale
Francis the Leper, Faith, Medicine, Theology and Science by Joanne Schatzlein, OSF, RN, MA and Daniel P. Sulmasy, MD, Ph.D.
Hard cover edition 
Over 25 years ago, a question surfaced about how St. Francis of Assisi could spend intimate time with lepers without himself contracting the disease. This led two authors with backgrounds in medicine and Franciscanism to offer, in an article published in the journal Franciscan Studies in 1987, a thorough historical medical review of the ailments of St. Francis that raised the possibility of leprosy for the first time. 
Today this possibility remains new and intriguing to many lovers of St. Francis. Recent biographers of St. Francis have had varying opinions about the leprosy hypothesis, but none have come up with viable challenges or alternatives. In this new and provocative book, Joanne Schatzlein, OSF, RN, MA, and Daniel P Sulmasy, MD, PhD have republished an updated version of their original work, and have also surveyed the scholarly opinions about their hypothesis that have surfaced during the past 26 years. While scientifically rigorous and historically thorough, the book is written in an approachable way that makes this theory come alive for a wider public. This book will appeal to all readers searching for the real St. Francis, by looking closely at his embrace of lepers as a way to embrace the Suffering Christ, who as St. Bonaventure reminds us, was foretold by the prophet Isaiah to come among us as a leper Himself.
Hardcover
64 Pages