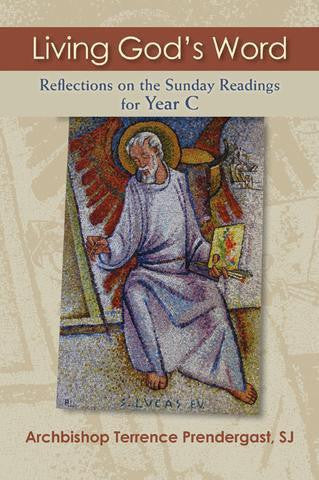 Living Gods Word (Year C) by Archbishop Terrence Prendergast SJ
Regular price $19.95 $7.95 Sale
Note: This is a clearance product and may have some minor imperfections. For information on a particular product, please call us or come to the store in person.
A valuable tool for writing homilies and gaining a deeper understanding of the Sunday scriptures.

Offering insight into the land and people of the Bible, Living God's Word: Reflections on the Sunday Readings for Year C is a perfect tool for studying the Sunday readings. Archbishop Prendergast probes the meaning of the Sunday readings with fascinating detail and brings them alive with contemporary stories relating to peoples' life experience. These succinct, yet profound reflections will be sure to enrich your understanding and appreciation of the Sunday scriptures.
As the final volume of a three book series, this collection completes the three-year cycle and brings together reflections written by Archbishop Prendergast for Canada's national Catholic newspaper, The Catholic Register.
Archbishop Terrence Prendergast, SJ, holds a Bachelor of Arts degree from Fordham University, Master of Divinity and Doctor of Theology degrees from Toronto School of Theology and a Licentiate in Theology from Regis College. He is the Archbishop of Ottawa.