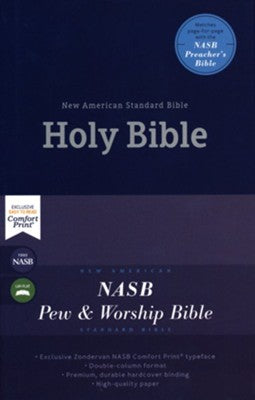 New American Standard Bible Pew and Worship Bible
Regular price $24.95 Sale
Help the congregation of your church follow along the teaching of God's Word with the NASB Pew and Worship Bible. Carefully designed to ensure that the congregation and pastors can read Scripture together during sermons, this Bible matches every page of the NASB Preacher's Bible while keeping a distinct page layout between them. Ensuring that the first word and the last word are the same, it is the purpose of these Bibles to help everyone in your church be on the same page, figuratively and now literally, with the NASB Pew and Worship Bible.
Features:
The full text of the New American Standard Bible, 1995 edition
Matches page-for-page with the NASB Preacher's Bible
Durable hardcover binding
Double column, verse-by-verse format
Exclusive Zondervan NASB Comfort Print typeface
Black-letter edition
9 point print size
8.50" x 5.40"