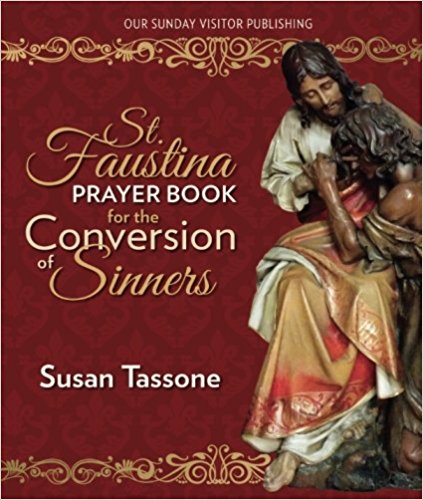 Saint Faustina Prayer Book for the Conversion of Sinners by Susan Tassone
Regular price $22.95 Sale
Paperback: 168 pages (April 3, 2017). 5.5 x 6.5 inches. 
"Today bring to Me all mankind, especially all sinners, and immerse them in the ocean of My mercy." - Jesus to St. Faustina
Throughout her Diary, St. Faustina speaks of Jesus' call for the conversion of souls. Through prayer and sacrifice, the Lord calls us all to strive for our own conversion, and for the conversion of the whole world.
Perhaps you've tried everything to draw your friend or family member back to faith in God. In St. Faustina Prayer Book for the Conversion of Sinners, best-selling author Susan Tassone shows you how to place the lives of all you love into God's merciful hands. Known worldwide as leading the "purgatory movement," Susan invites you to learn how to live the message of conversion daily, to avoid purgatory, and to become more faithful in praying for others.
Susan Tassone has long been a passionate champion for the holy souls in purgatory and is recognized as leading a worldwide purgatory movement. The author of nine best-sellers, including St. Faustina Prayer Book for the Holy Souls in Purgatory, Susan makes speaking appearances throughout the country. She is a frequent and popular guest on national radio and television programs as well as social media. In 2013, she was featured in the ground-breaking documentary Purgatory: The Forgotten Church. She also continues to work tirelessly to raise donations for Masses for the holy souls. Susan holds a master s degree in religious education from Loyola University Chicago and had the honor and privilege of being granted two private audiences with St. John Paul II, who bestowed a special blessing on her and her ministry for the holy souls.