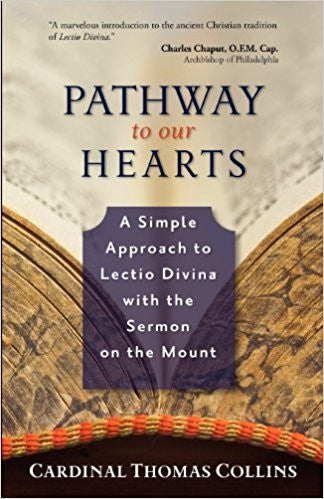 Pathways to Our Hearts - A Simple Approach to Lectio Divina with the Sermon on the Mount by Cardinal Thomas Collins
Regular price $25.95 Sale
Paperback: 160 Pagers: by Cardinal Thomas Collins
Archbishop of Toronto and respected Bible teacher Thomas Collins presents an accessible approach to praying the Sermon on the Mount in the tradition of
lectio divina,
or sacred reading, creating a fresh and accessible perspective on an ancient practice.
Drawn from Archbishop Thomas Collin's popular monthly lectio divina series at St. Michael's Cathedral in Toronto, Pathway to Our Hearts invites readers to listen to the word of God and examine what it tells them about loving God with their mind, heart, and hands. With the Sermon on the Mount as his focus, Collins welcomes readers into a nourishing encounter with the word of God, adapting the ancient practice of lectio divina for today's Catholics.
At this time of revival of the tradition of lectio divina, including a strong endorsement by the 2008 Synod on the Word, Collins models a simple approach that anyone can take to reading scripture. Collins's friendly, conversational manner encourages the reader to learn to listen to the text, allowing God's voice to speak to the heart. From his long experience of teaching the Bible, Collins offers readers expert advice on praying with the scriptures, but most importantly he models it, and those who thirst to draw close to God's word will find refreshment in these pages.