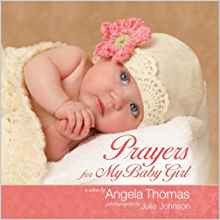 Prayers for My Baby Girl by Angela Thomas
Regular price $17.95 Sale
Hardcover - 49 pages
Bestselling author Angela Thomas is a sought-after speaker, gifted story-teller, and adoring mom. Her prayers, presented as letters to God, beautifully reflect a mom's gratitude for the everyday moments with a newborn daughter. These universal expressions of love and the desire to be a good mom are bundled with Julie Johnson's heartwarming photos of sweet babies that are sure to spark smiles for everyone who has loved a little girl.
From the very first page, readers are reminded of the many joys and privileges of raising a child and will be led to times of prayer and thanksgiving. This tender tribute to the wonder of new life and the divine gift of motherhood will be a keepsake for all moms, grandmas, and anyone who delights in little ones.
Material adapted from Prayers for Mothers of Newborns by Angela Thomas.