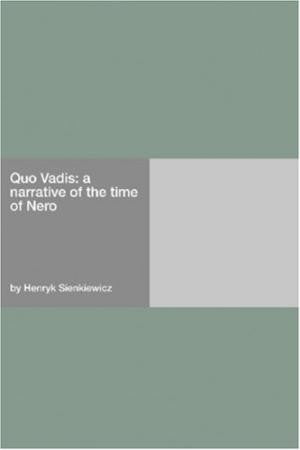 Quo Vadis (A Narrative of The Time Of Nero) by Henryk Sienkiewicz (Large Print Edition)
Regular price $18.95 Sale
Note: This is a clearance product and may have some minor imperfections. For information on a particular product, please call us or come to the store in person.
Paperback - 623 pages
The novel Quo Vadis tells of a love that develops between a young Christian woman, Lygia (Ligia in Polish) and Marcus Vinicius, a Roman patrician. It takes place in the city of Rome under the rule of emperor Nero, c. AD 64.
Sienkiewicz studied the Roman Empire extensively before writing the novel, with the aim of getting historical details correct. Consequently, several historical figures appear in the book. As a whole, the novel carries a pro-Christian message.[2][3][4]
It was first published in installments in the Gazeta Polska between 26 March 1895 and 29 February 1896,[5][6] as well as in two other journals, Czas and Dziennik Poznański, starting two and three days later.[7][8] It came out in book form in 1896 and has been translated into more than 50 languages. The novel contributed to Sienkiewicz's Nobel Prize for literature in 1905.[9]
Several movies have been based on Quo Vadis, including two Italian silent films in 1913 and in 1924, a Hollywood production in 1951, a 1985 miniseriesdirected by Franco Rossi, and a 2001 adaptation by Jerzy Kawalerowicz.