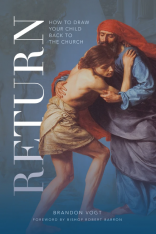 Return: How to Draw Your Child Back to the Church by Brandon Vogt
Regular price $24.95 Sale
The statistics are troubling: 6.5 people leave the Catholic Church for every one that joins, and 50% of young people who were raised Catholic are no longer Catholic today. The Catholic Church is hemorrhaging young people.
Behind these statistics are countless stories of wounded families. Millions of mothers and fathers are longing for their prodigal children to come home to the Church, crying: "Where did we go wrong?"
The passive wait-and-see approach is no longer an option. We need a different strategy. We need to understand the real reasons why our young people drift away, and we need a game plan to bring them home. We need Return.
"If your son or daughter has left the faith, I encourage you not to give up hope and to learn from the advice in this book. Return will serve as an essential resource for the Church's evangelization efforts and a true game-changer for desperate parents everywhere."
—Bishop Robert Barron, from the foreword