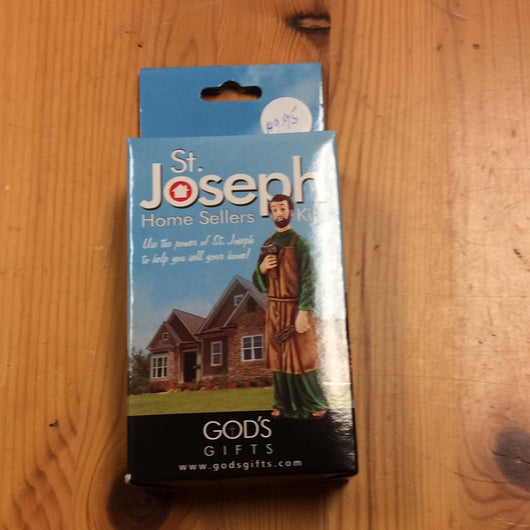 Saint Joseph Homesellers Kit
Regular price $17.95 Sale
ST.JOSEPH HOME SELLERS KIT. Ask for St. Joseph's intervention if you are having trouble selling your home. This kit has all you'll need and includes a statue of St. Joseph, a prayer card, and instructions.
Saint Joseph the Worker home seller kit includes a small rustic St. Joseph carpenter figure, a colour prayer card and instructions on how-to-sell your home.
Joseph, Jesus' earthly father, is the patron saint of home and family. Real estate agents and property owners have sought St. Joseph's intercession to help facilitate property sales with much success.
Origins - there are several histories affiliated with the practice. European nuns in the Middle Ages buried a medal of St. Joseph — while asking the saint to intercede — in its quest for a convent. With their strong belief and devotion their prayers were answered.
Secondly, it is connected to a practice by German carpenters who buried statues of Saint Joseph in the foundations of the houses they built and said a prayer to St. Joseph.
Thirdly, this practice is traced back to Saint Andre Bessett in the late 1800's who wanted to buy land on Mount Royal in Montreal to construct a small chapel. When the landowners refused to sell, St. Andre Bessett began planting medals of St. Joseph on the property. In 1896 the owners suddenly relented and sold, and Bessett was able to build his oratory.
Prayer to St. Joseph the Worker:
Oh, St. Joseph, whose protection is so great, so strong, and so prompt, before the throne of God, I place in you all my interests and desires. Oh, St. Joseph, do assist me by your powerful intercession, and obtain for me from our Divine Son all spiritual blessings through Jesus Christ, Our Lord, so that having engages here below your heavenly power, I may offer my thanksgiving and homage to the most loving of Fathers. Oh, St. Joseph, I never weary contemplating you and Jesus asleep in your arms. I dare not approach while He reposes near your heart. Press Him in my Name and kiss His fine Head for me, and ask Him to return the kiss when I draw my dying breathe. Amen. O Saint Joseph pray for me.
St. Joseph, the husband of Mary and earthly father of Jesus Christ, is honored as the patron saint of married couples, families, carpenters and workingmen. Even if you are not in the market to sell, this is a lovely little statue that can be proudly displayed in your home or office. Considering giving this to anyone struggling to sell their home or as a house warming gift, and ask for St. Joseph's intercession for their family. St. Joseph is the Patron Saint of Home and Family.
St. Joseph, protector and provider for the Holy Family, has long been associated with the selling of real estate. Traditionally, prayers are offered to Saint Joseph for his intercession during the home sale process and one buries a small statue in the front of the home.
St. Joseph was the Spouse of Our Lady and adoptive father to Our Lord. Tradition teaches us that he was a carpenter by trade. He is known as the patron of the Catholic Church, as well as many causes including all laborers and families. His feast days are: St. Joseph Husband of Mary - March 19, St. Joseph the Worker - May 1.