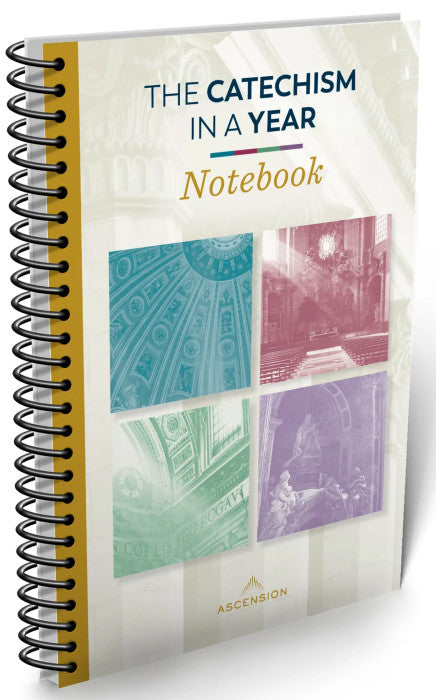 The Catechism in a Year Notebook
Regular price $22.95 Sale
The one and only notebook created especially for use with Fr. Mike Schmitz's The Catechism in a Year!
The Catechism in a Year Notebook is the ideal place to document the individual path of growth and insight that each podcast listener will experience. It is straightforward and flexible to match every individual's needs.
The material will be your reflections and notes!
This notebook, which is adapted from
The Bible in a Year Notebook, 2nd Edition
for The Catechism in a Year, was developed in response to listeners' ideas and comments from The Bible in a Year (with Fr. Mike Schmitz).
This notebook is a tool to aid listeners in remembering what stood out to them in each episode, what questions they would like to meditate on, and what prayers they want to offer each day of the year, regardless of when they start listening to the podcast.

This notebook contains unique characteristics like:

    Color-coded pages using the Foundations of Faith approach found in the Catechism of the Catholic Church, Ascension Edition to show listeners where each day's readings fit within the Catechism
    The proprietary Catechism in a Year reading plan, laid out for each day to help listeners stay on track
    A list of the paragraphs read from the Catechism each day for easy reference
    Spiral binding to make taking notes and flipping between days simple
    One full page of note-taking space per episode of the podcast to write down thoughts and takeaways
    Portrait orientation for ease of storage with other books and podcast resources
After a year of listening to Fr. Mike Schmitz, this notebook will be a compilation of all the lessons acquired by the listeners, a roadmap of their spiritual journey, and a priceless keepsake to reflect back on and refer to in the future.