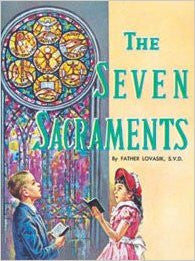 The Seven Sacraments by Fr. Lovasik, S.V.D.
Magnificent new series of religious books for children, superbly illustrated in full color and simply written, that will help all children to better understand the Catholic Faith. Ideal for Home or School.
Author - Lawrence G. Lovasik
This delightful little book acquaints children with the Sacraments.
 Illustrated in full color.

Paperback
Publisher: Catholic Book Pub Co (July 1, 1978)
Language: English
ISBN-13: 978-0899422787
Product Dimensions: 18.9 x 14.2 x 3.2 cm
Shipping Weight: 59 g