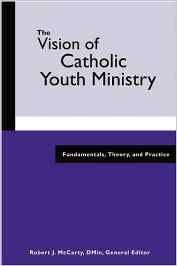 The Vision of Catholic Youth Ministry: Fundamentals Theory and Practice by Robert J. McCarty (Editor)
Regular price $54.95 $21.95 Sale
Note: This is a clearance product and may have some minor imperfections. For information on a particular product, please call us or come to the store in person.
Paperback - 272 pages 

The Vision of Catholic Youth Ministry: Fundamentals, Theory, and Practice provides an overview of the theory and pastoral practice of comprehensive youth ministry, based on the 1997 document, Renewing the Vision: A Framework for Catholic Youth Ministry (United States Conference of Catholic Bishops' Department of Education). Contributing authors represent a spectrum of Catholic youth ministry thought and practice and are widely recognized in the field. The Vision of Catholic Youth Ministry is the first textbook on Catholic youth ministry and blends solid research with real-life application. It is an excellent resource for undergraduate or graduate courses in Catholic youth ministry or for youth leaders who want to ground their ministry in solid theology.