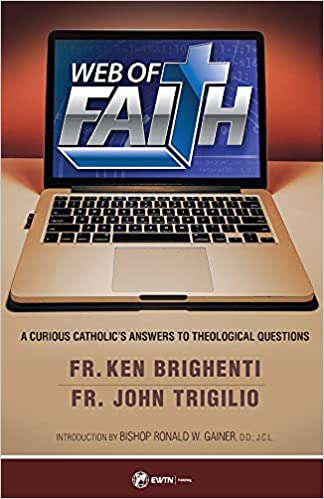 Web of Faith - A Curious Catholic's Answers to Theological Questions
Regular price $22.95 Sale
"The questions and answers in this book have been taken from episodes 1999-2017 of EWTN's Web of Faith 2.0"--Copyright page.
Whether about morality or matters of doctrine, hundreds of questions a year are posed to the average priest, with vast spiritual significance hinging on each answer — conversions and reconversions, children's formation, the survival of marriages, new vocations to the priesthood, and the eternal destiny of those on their deathbeds.
Yet there remain few good Q&A compendiums published over the past half century.
In response to this need, Fr. John Trigilio and Fr. Ken Brighenti, hosts of EWTN's Web of Faith, draw on their years of pastoral experience to compile a comprehensive list of the best questions ever asked of them, responding to each with the same natural warmth, intellectual heft, and spiritual acuity that has earned them such a large international following.
As on the Web of Faith television program, their conversational style opens fresh lines of questioning to which Fr. Trigilio and Fr. Brighenti provide clear, insightful answers. The result is 400 pages of rewarding material touching on practically every category of Church life and Catholic teaching imaginable, including:
How to go to Confession and how not to
What you must believe versus what you can have your own opinion about
Sacred Scripture's claims and mandates
How to deal with family collapse
Why customs matter
Who the Church Fathers and Doctors are – and what they teach us
Bad words and unwanted thoughts: what is sinful and what is not
How the life of Christ should influence how one prays
What the Church teaches about cremation versus burial
Psychics and their abilities
How canon law applies to laypeople
How to avoid the dangers of the Internet
The importance of reading lists and how to pick good books
Paperback. 400 pages.