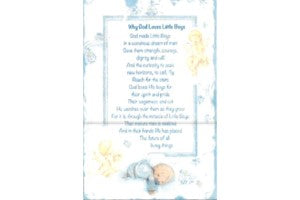 Greetings of Faith - Why God Loves Little Boys - Greeting Card
"Why God Loves Little Boys 
God made Little Boys in a wondrous dream of man Gave them strength, courage, dignity and will. And curiosity to seek new horizons, to sail, fly Reach for the stars. God loves His boys for their spirit and pride Their eagerness and wit He watches over them as they grow For it is through the miracle of Little Boys That mature man is realized And in their hands He has placed The future of all living things"
Inside: "A little Angel has come to join your family. May he fill your hearts and home with joy and happiness. May God Bless Him Always! Congratulations!"
Scripture Verse: "Whoever receives one child such as this in my name receives me. Matthew 18:5"