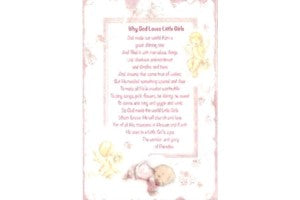 Greetings of Faith - Why God Loves Little Girls - Greeting Card
"Why God Loves Little Girls"  
God made our world from a great shining star And filled it with marvelous things Like shadows and rainbows and dimples and bees And dreams that come true of wishes But He needed something special and dear To make all He'd created worthwhile To sing songs, pick flowers, be dainty, be sweet To dance and sing and giggle and wink So God made the world Little Girls Whom forever He will cherish and love For of all His creatures in Heaven and Earth He sees in a Little Girl's eyes The wonder and glory of Paradise"
Inside: "A little Angel has come to join your family. May she fill your hearts and home with joy and happiness. May God Bless Her Always! Congratulations!"
Scripture Verse: "Whoever receives one child such as this in my name receives me. Matthew 18:5"